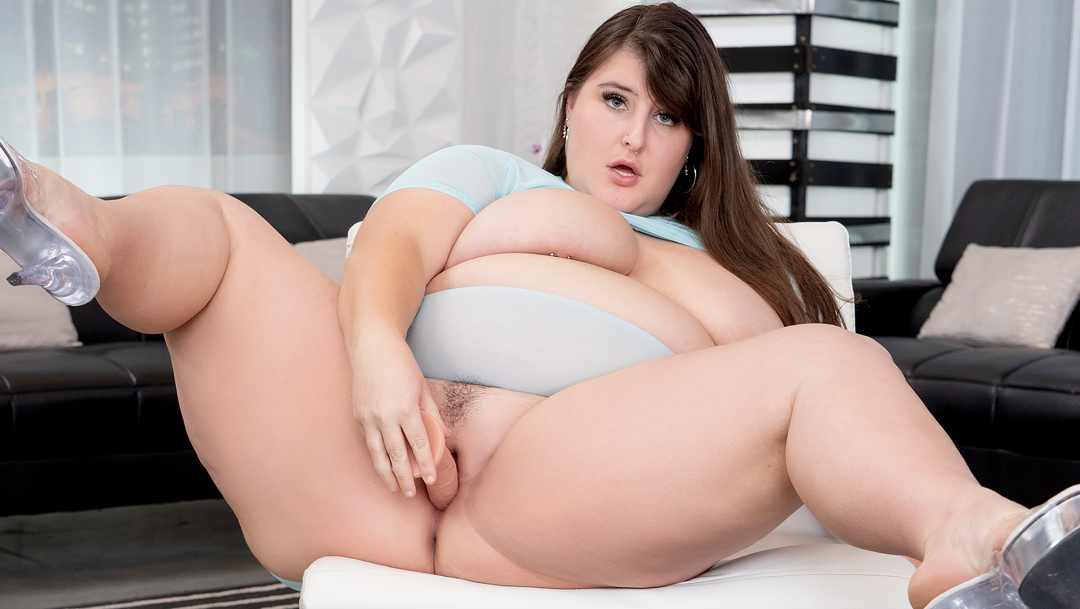 Enchanting Leila Lewis is here to put on the most exquisite BBW solo show to ever be filmed, or at least try to. Dressed in a slutty light-blue see-through outfit, she wastes no time on pointless introductions. She knows every horny man watching this video with his dick in his hand is only looking for one thing. And that is to worship those fine, fine plumper curves with his eyes as he strokes his shaft. Thus the alluring brunette gets straight to work, flaunting her big natural boobs, with those nipple piercings peeking through the fabric. Before moving on to her mouthwatering round belly and fat butt. She squeezes and squashes her milkers together as she shakes her juicy body. Lasciviously teasing the viewer before finally releasing the pups from their tight-fitting prison. Leila then continues to play with her jugs and starts licking her nipples.
You're invited to an exclusive BBW solo show
Now that it is officially stripping time, the fat bombshell can finally set her yummy round belly free and rub it to her heart's content. She then bends over, putting her large behind at the centre of attention. Slapping her meaty cheeks like a submissive slut, she takes off her skirt afterwards, leaving nothing on but the sexy high heels on her feet. It is time to start the show, and demonstrate all of her lewd BBW solo skills to her many admirers. Leila opens up by making her phat booty dance as she shakes and twerks it. She then spreads wide, revealing her lustful holes that are begging for pleasure. Convinced that was more than enough teasing, the chunky tart sits down and parts her legs. She rubs and fingers her hairy pussy before pulling out a fake rubber cock that she proceeds to fuck till orgasm.