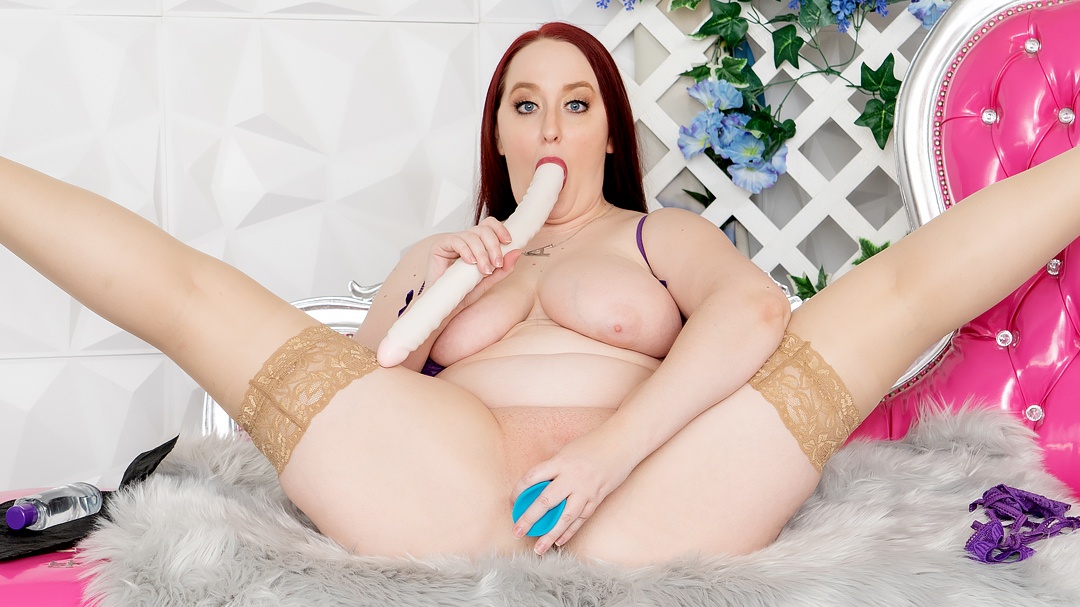 Cute Andi Ray welcomes you to this fantastic redhead plumper masturbation session. The ginger babe is dressed in an arousing purple lingerie set. The laces and strings struggle to contain her juicy natural bristols as she takes her fiery strands of hair to the side in order to give us a better view of the main course. She then shakes her chest, allowing those heavenly milkers to dance like wild from side to side. But the mammary goodness is only just beginning, as Andi squeezes her boobs together for a cock-melting visage. The fat stunner then turns around to show off her booty, covered only by the single string of her slutty thong. She generously makes her cheeks bounce as she lifts them with her hands. Her meaty behind satisfyingly jiggles all around as she does so. Less than one minute in, Andi has firmly established her irresistible BBW status.
Andi Ray performs a torrid redhead plumper masturbation
Turning back towards the camera, Andi grabs her exquisite tits once more, playing all sorts of tricks with them before giving us a glimpse as to what she hides beneath her bra. More teasing ensues as a proper redhead plumper masturbation warrants a good setup, especially when it comes to how hard her audience is by the time she actually gets down to business. It is fair to say, no gent will find it hard to stay hard, so long as this goddess is on his screen. The chunky slut is now flaunting her ass once more. She drops her panties down and begins slapping and spreading that meaty bum till it's nice and ready. Some more booby bouncing precedes the main event, and then finally, Andi pulls out a dildo and a vibrator. She goes on to fuck herself with them simultaneously till she orgasms.