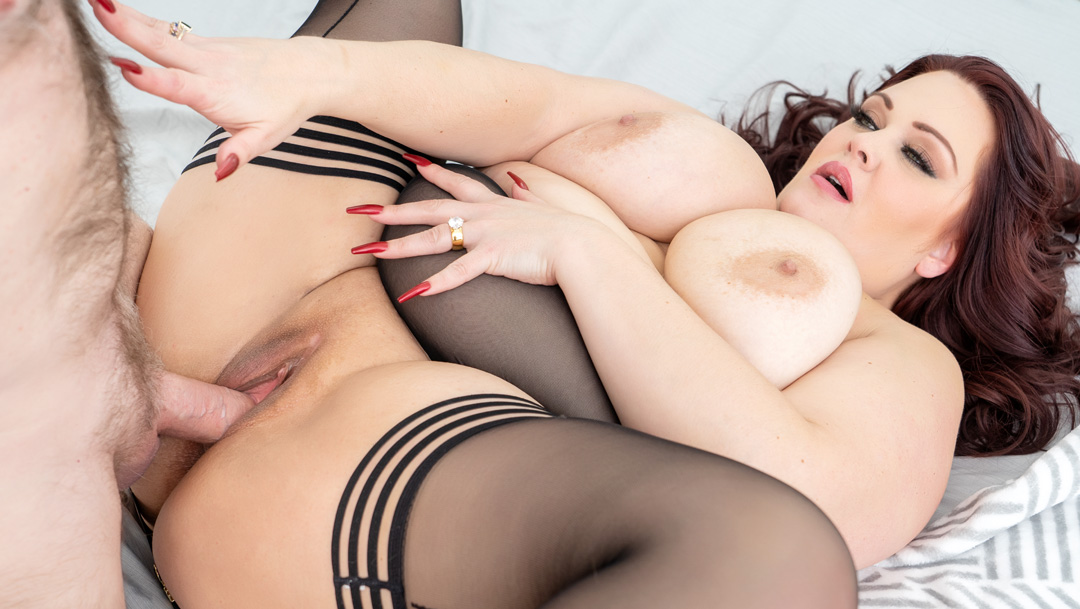 Alexa Gray is an incredibly hot BBW who is almost always craving a throbbing cock inside of her. Her partner, Jay, has spent the last 30 minutes dressing up for a party that he's been looking forward to attending all week. Unbeknownst to him, the breathtaking plumper has very different plans for them tonight. She wants him to make love to her, and she simply cannot risk him going to that party, coming back all tired and wasted, unable to satisfy her lustful needs. Alexa is not worried at all about her chances though. She is an expert in seduction, and she knows exactly how easy it is for her to change her man's mind about how he would like to spend the night. The thick stunner makes her move by grabbing his tie and pulling him towards her while capturing his attention with a wanton stare.
Who needs to party when you have a hot BBW at home?
The moment Jay is in range for a kiss, he uncontrollably answers his woman's advances by locking lips with her. It really was that easy to make him forget something he has been excited for for an entire week. Then again, one cannot blame the old bloke. It is hard to imagine someone being able to dispel the charm of such an irresistibly hot BBW. With the two lovers' thoughts and desires in synch, their lovemaking session commences. Alexa starts the fun by laying Jay down on the bed after pulling out his meat stick. A sensual blowjob ensues, in which the chubby beauty deepthroats her BF's dick while caressing his balls. She then hops on top, riding the joystick like a perfect curvy cowgirl. After eating his lady out, Jay continues to pound her pussy, culminating in a hefty load filling her mouth and showering her huge knockers.