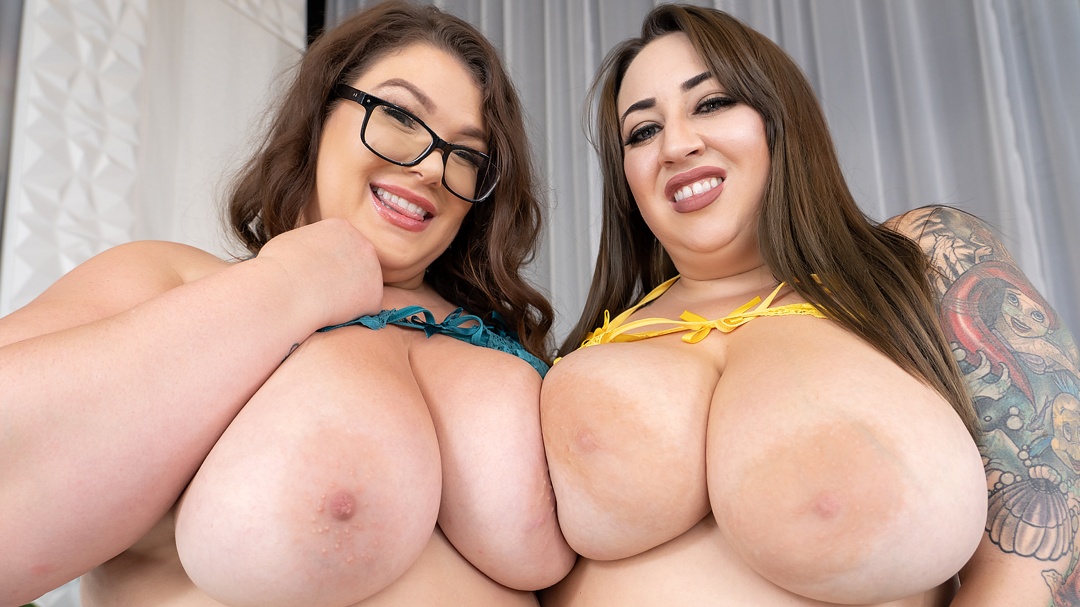 It has been almost an hour since busty lesbian plumpers Kendra Lee Ryan and Luna Lark got into their slutty underwear for what is supposed a threesome scene with one lucky chap. It appears however that their ungrateful costar is very much less than punctual for an experience that any other man would die for without second thought. The beautiful brunettes spend their time waiting as they help keep each other keep their lingerie in place. Understandably, the thin fabric is barely capable of containing their unreal assets. And so, their massive mouthwatering milkers keep spilling our of their poorly supported bras. Performing underwear maintenance for over an hour while waiting for a bloke who should've been there way before they arrived, has become to dull to keep up for the two thick goddesses. If the dude wants to miss this once-in-a-lifetime opportunity, then so be it.
Making the most out of an unfortunate situation with lesbian plumpers Luna Lark and Kendra Lee Ryan
It is beyond obvious for everyone in the room that the BBW superstars will not be waiting any longer. But just because the colleague whose dick they were supposed to tag team is too lazy to get a piece of their king-sized goodness, does not mean the shoot has to be cancelled. Both busty lesbian plumpers Luna Lark and Kendra Lee Ryan are on the bed. And both of them are barely wearing anything at all. Instead of a rowdy fat threesome where the audience will barely be able to keep up with the action. Especially with all the juiciness bouncing around. Why not use this unexpected hurdle in the road to turn this in a hot passionate girl on girl scene? Neither curvy babe seems to disagree with the proposition. And the crew most certainly would not say no to witnessing such a cock-melting view.