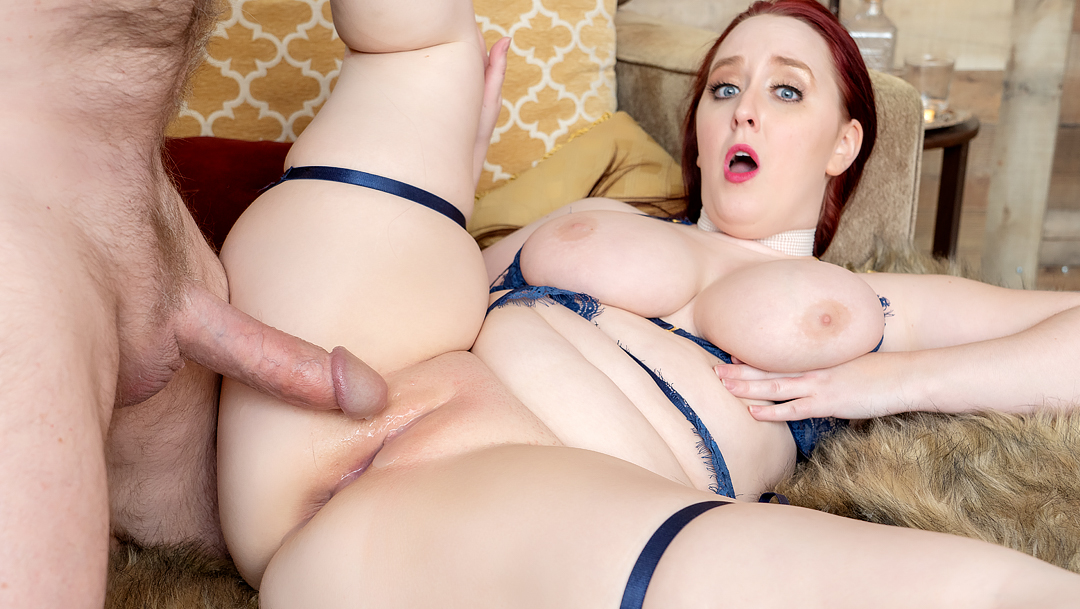 Walking into a poorly-planned porn set with a busty BBW, this mature bloke is feeling somewhat bummed out. He has been doing this for so many years, that he's become jaded from the thousands of low-effort attempts at creating a "plot" that he's had to participate in. His costar, hot redhead Andi Ray, certainly seems to agree, as she herself has had her fair share of lousy storylines that were becoming overused 20 years ago. The two discuss their feelings about the need for a script, and quickly come to agree that nobody really cares about story in porn, people just want to see torrid, raw, passionate sex. And the sooner they get to that part of the video, the happier everyone involved is. The performers' mutual frustration leads them to the conclusion that they most definitely would rather just start fornicating and have the post-production team 'cut to sex'.
Straight to sex with a busty BBW
After helping her strip down to her erotic lingerie, the horny grandpa takes his time eating the sexy plumper's ass and pussy. Completely burying his face between her fat cheeks, Andi's moans fill the room with a lustful mist as she twerks up and down her partner's tongue. Wishing to return the favour, the busty BBW then gets down on her knees and presents her mouth for the hungry old shaft. Her pretty mouth is not the only thing the grizzly geezer is planning to fuck however. Knowing this, she put her big natural boobs together and tugs his hardened pecker between them. Then she proceeds to give him a cock-melting boobjob. Done with foreplay, the gent ploughs his fiery lady's position in every position she can think of, making sure to spray her pink juicy pussy lips with his warm seed for a sizzling climax.