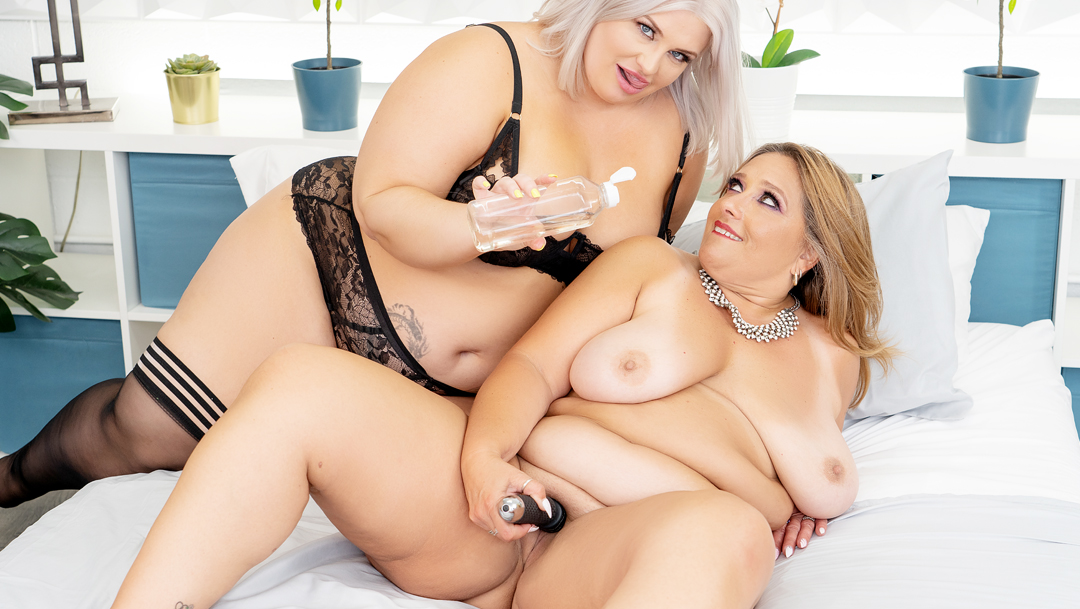 Though she is no newbie when it comes to having sex with complete strangers, amateur fat MILF Mia Cummins has never actually done porn before. She has spent many years trying out new and exciting sexual experiences. And she is a long-time member of her local swinging community. Which in turn introduced her to Jeff's Models, the studio she will be shooting for today. Uncharacteristically for her, she actually had her doubts about becoming an adult film actress. While she most certainly does not care about the societal repercussions of videos of her having sex being plastered everywhere online and accessible for just about anyone with an Internet-connected device; the cougar BBW still felt hesitant, and she couldn't quite put her finger on the reason for her unusual concern. Perhaps she dreaded the thought of not being able to perform on camera as well as she did behind it.
Tiffany Star introduces amateur fat MILF Mia Cummins to the porn world
Regardless of whether the cause for Mia's reluctance was the fear of underperforming. And in turn receiving a lot of negative comments that she knows she does not deserve. Or some other deep-seated worry that she cannot wrap her head around. She eventually managed to overcome her barriers and reached out to the studio to schedule her very first porn shoot. Unbeknownst to the amateur fat MILF, she was going to be escorted on her debut by none other than the young and beautiful BBW superstar Tiffany Star. The moment the two of them met behind the setting for their scene, Mia's worries magically and instantly melted away. As if they were never there to begin with. What follows is an erotic solo introduction to this charming mature lady, as she prepares herself for her curvy lesbian partner. Then both she and Tiffany play with each other till orgasm.