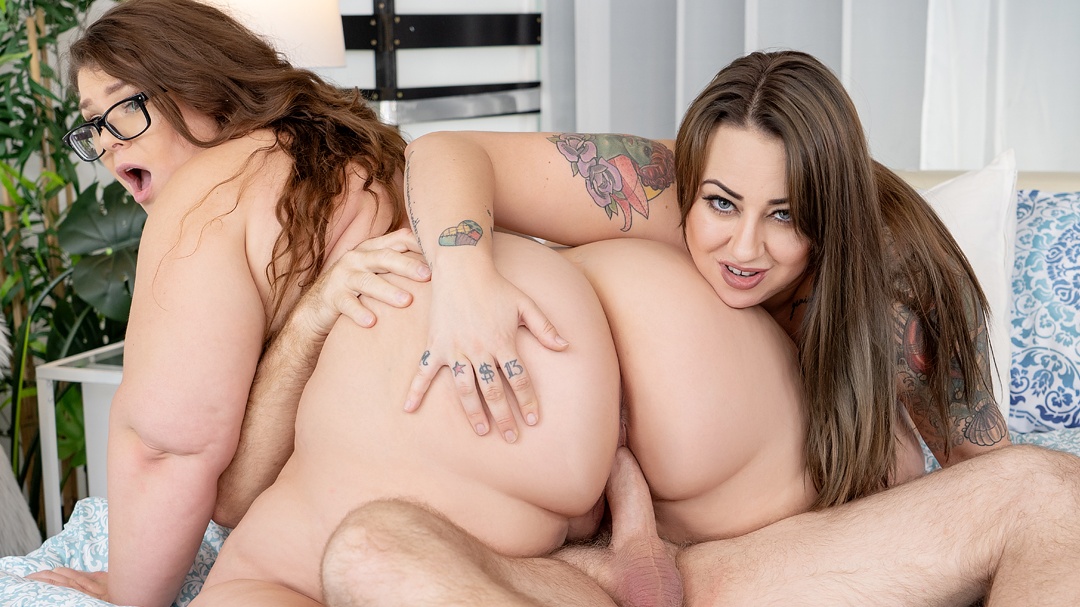 The unsuspecting Jay Crew had no idea that walking into the bedroom would lead him to having a sensation fat babe threesome with goddesses Kendra Lee Ryan and Luna Lark, but he most certainly does not mind. He happened to enter the room just as the two brunette plumpers were finishing up their lovemaking session after two incredibly satisfying orgasms. While they are a bit embarrassed the Kendra and Luna are not that concerned about being caught, even though they know Jay has been looking around for the them the whole time while they had their faces buried in each other's muffs. The old chap himself seems to take it lightly as well, everyone seems to be chilling and having fun. Looking at them you would almost forget that both girls are completely in the nude and embracing each other while they joke around with the grey-haired stud.
Joining Kendra and Luna for a fat babe threesome
Even though it is obvious to Jay that the two BBWs have just finished having sex, he still cannot help but suggest that he joins them for a fat babe threesome. The aged gent is a firm believer in the moto "You lose every chance you don't take". And so he throws his hat in the rain, despite knowing that it is highly unlikely for the chunky angles to let him in on their naughty practices. In a pleasant surprise, Luna and Kendra actually do not seem to mind hopping back on the bed for a second round, and Jay could not be happier about their reaction. After pulling his pants down and lying between the two hefty brunettes, the horny grandpa relaxes and enjoys the heavenly ride as his two escorts to paradise take turns melting his stiff shaft with their sweet lips and juicy pussies.