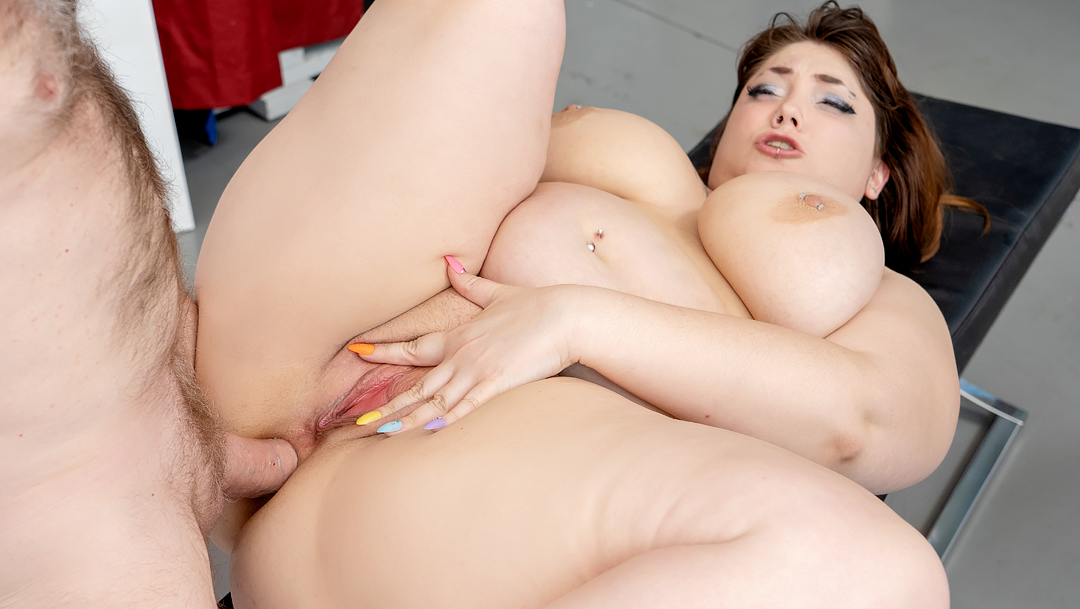 Gorgeous art student Chelsea Dagger has one fine BBW booty that she will be putting to good use today. She rented space from an older gentleman who was kind enough to help. Despite her contacting him about her need for a studio only hours in advance. The brunette plumper is barely done thanking the man for his assistance, when she receives a message from her friend, who was supposed to act as the model for her assignment today. Apparently he will not be able to make it on time. And while she does not disclose the details, she is clearly beyond frustrated with her mate's shitty excuse for flaking on her. Just when she thought she made it past the biggest hurdle of her day, Chelsea finds herself in quite the predicament. She will have to get creative if she is to turn in her school project on time.
Stuffing her BBW booty with a fat dong
Once again saving the chunky student from guaranteed failure, the mature chap (who happens to be a teacher himself) volunteers to be her model. Even though he has papers to grade, he simply can't leave a cute young lady like Chelsea to deal with such an unfortunate fate like this. Unbeknownst to the kindhearted grandpa however, this is no casual modelling session. The class that the curvy babe is trying to pass, is centred around the shape of the human body. Naturally, that means that he will have to get completely nude for her to draw him. However, once the chick's eyes make contact with the guy's huge schlong, she finds it impossible to resist touching. One thing leads to another, and the grey-haired feller soon finds himself shoving his shaft up Chelsea's BBW booty. And pummeling it like his life depends on it.