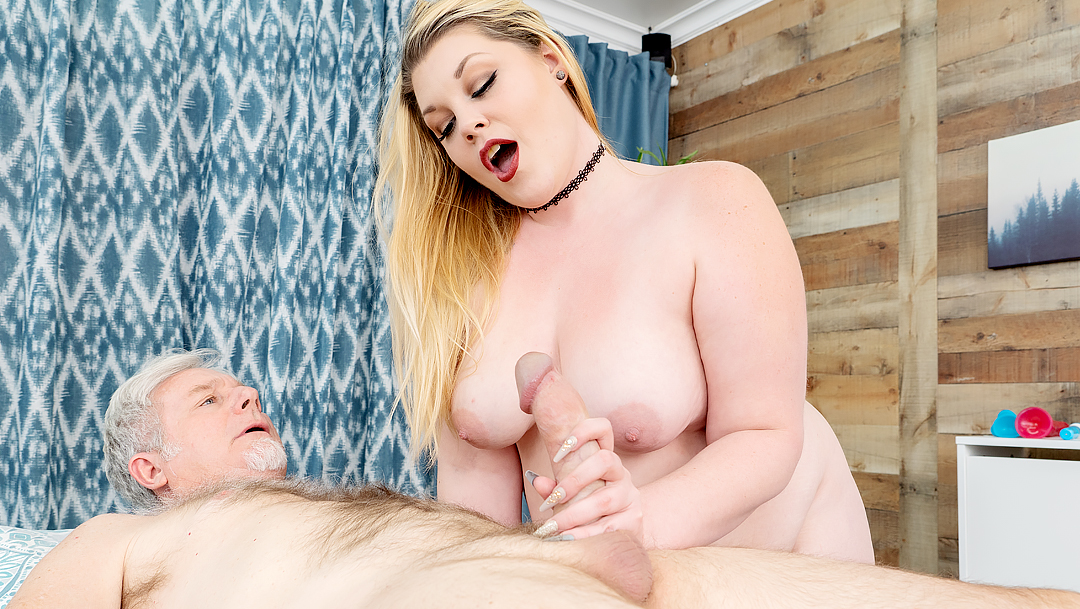 An average masseur appointment for stunning blonde BBW Luna Storm has quickly turned into a fetishist's wet dream. While she did not have any impure intentions on her way to the establishment, she simply could not hold back her desires after seeing the stack of exciting sex toys adorning the professional's equipment dresser. Since her girlfriends had already warned her about the old masseur's reputation for rewarding his clients with some extra special services, and said services being highly demanded due to how good he is at providing them, she was not surprised at the sight of such explicit tools being openly displayed in front of a first-time client such as herself. When the mature man asked her to undress, Luna's mind quickly jumped to the sluttiest of outcomes. At that moment, she couldn't care less about the rubdown she came for, the only thing on her mind was sex.
Raw passionate sex with a blonde BBW goddess
The expert starts off by applying a vibrator to Luna's sensitive nipples before slowly sliding down towards her exposed twat. He pushes the sex toy deep inside of her muff as he pulls out his wiener and allows her to go to town on it. He then uses his other hand to furiously rub her clit while the denma shakes up her insides. Now that they are on the same page regarding what the blonde BBW really wants out of this massage, it is time to get to business. She starts off by stripping the grandpa down and oiling him up, before she reaches for his stiff dong and starts working her magic, taking it throat-deep. With the big cock all lubed up using an authentic mixture of oil and saliva, it is time for her to take it on a long hard ride all the way to Cum Town.