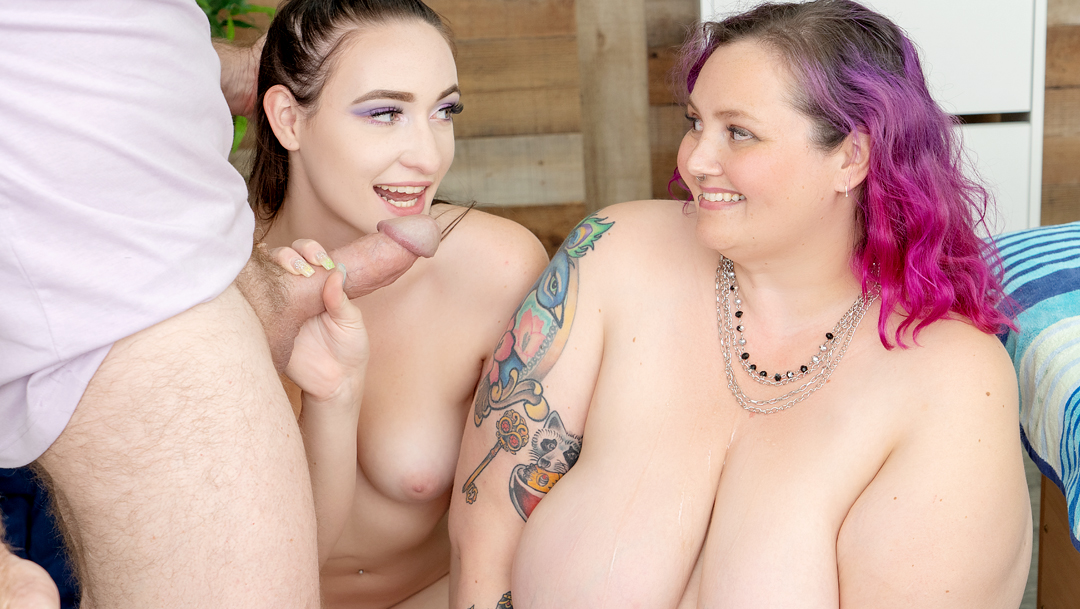 Think back to all the lewd BBW videos you have ever beat your meat to, and it will be easy for you to tell that this what fat chick porn is made for. The concept is really simple: What is the best way to highlight a plumper's thickness throughout an entire sex scene? In other words, how do you make that babe's curves pop, and become effortless to appreciate, when you obviously cannot keep the stud drilling her in frame for the entirety of the runtime. The answer lies in the number three. That's right, bringing in a second slut, specifically a skinny one, can add so much more heat to the stale chubby girl formula that everyone has seen a million times and become tired of mere months after getting into adult films that feature larger ladies. It truly is that straightforward. Threesomes are the future of the industry.
Revolutionising BBW videos with the help of skinny chicks
The sexy Sara Star has the honour of being the practice plumper for renowned masseur Jay Crew and his cute slender apprentice Everly Haze. The experienced pervert feels no shame helping his chunky client undress and sucking her tits right in front of his intern. After Sara becomes fully naked, she lied down on her big belly and lets the professional get to work. Young novice Everly quickly realises that her mentor's highly-demanded services are more centred around releasing sexual tension, rather than physical one. And so she suddenly finds herself lying down on his massage table, legs spread wide, with his big dong going deep inside her trimmed pussy. The two of them then help Sara relax her butthole using Jay's girthy shaft. And their rowdy three-way ends with cum flowing down the pink-haired slut's natural breasts. This is truly what BBW videos look like at their very peak.